How Can René Help Teachers and Teaching Parents?
René wrote his Disaster books with students and teachers in mind. Each story has a 'hook' and is brief and packed with detail. They are written so they can be read aloud. Each story can serve as an intro to a lesson in Science or History or Geography or a theme in Social Studies.
Want to create an interest in preserving the environment? Climate Change? Read about Arctic Disasters like the Franklin Expedition or the First Air Crash in Resolute Bay, or the many flood, tsunami or fire disasters in Canadian Disasters books. Hurricanes and tornadoes are more commonplace with Global Warming, but Canada's history has many examples of these killers that come with little warning. The Walkerton Water tragedy is a sad note in our history of preserving a safe water supply.
Are you studying Social Sciences? Consider reading aloud Leaving Fletchville about youths taking on social and family responsibility, or read about the extinction of the Beothuk Natives of Newfoundland in (Canadian Disasters 1985). You can read about the effects of the Spanish 'Flu on Canada and the world, or the fight against Polio. How were the lives of Thalidomide Poisoning victims changed by their circumstances? (Canadian Disasters 1985) What help did the government provide?
Are you a Geography teacher? Read how cities were re-designed for safety and efficiency after various tragic events such as the Halifax Explosion or city fires such as the Vancouver or Quebec City Fires of 1845. Mining disasters such as Springhill Mines and Westray and Hillcrest Coal mine explosions litter our collective history with misery and a search for cleaner fuels and safer extraction methods. Is zoning a topic you might teach? A quick read of the Frank Slide tragedy will be all your students need to hear about why you shouldn't locate a town beneath a mountain.
Science and Technology teachers have great resources available introducing disasters as a result of engineering failures such as the Second Narrows Bridge collapse in Vancouver, or the Pont du Quebec / Quebec Bridge disasters. Ships and vessels sinking and numerous aircraft crashes can be attributed to failures of design or human errors in Swissair Flight 111, The Ocean Ranger drilling rig disaster, The Empress of Ireland and many more.
Searchable topics include:
'Boys in Red', Air Canada Flight 21, Air India Flight 182, Arctic disasters, Arctic explorers, Beothuk Native extinction, bullying, Canadian Disasters, Children's Choice Award, Climate Change, Coal Creek Mine, contagious, Cougar Helicopter crash, Edmund Fitzgerald, Empress of Ireland, Environmental Disasters, fatherhood, fiction, flood, Frank Slide, Franklin Expedition, Great Lakes storm of 1913, Halifax explosion, Hillcrest Mine, historical disasters, historical fires, HMS Erebus, HMS Terror, hurricane, ice storm, Ice Storm 1998, industrial disaster, Industrial disease, influenza, Juvenile, Laurier Palace Theatre Fire, Listeriosis, medical disasters, mine disasters, Newfoundland Fluorspar mine, Newfoundland Seal hunt, non-fiction, Noronic Fire, Ocean Ranger, phocomelia, Polio, Pont du Quebec, Princess Sophia, Quebec Bridge, Quebec Fire, racism, Red Maple, SARS, Second Narrows Bridge disaster, ship disasters, ship sinking, Spanish Flu, Springhill mine disaster, Swissair Flight 111, Terrorism, Thalidomide, Titanic, tornado, Toronto Fire, transportation disasters, USS Truxtun and USS Pollux, W.I.T.S., Walkerton Water Treatment, Westray Mine explosion, Writer's Union Member, young adult
About Writing: René says: Nobody can just wake up and decide to be a writer. It takes planning. From childhood my brothers kept giving me new books to read and I loved daydreaming about them. I was not a careful student and my relaxed attitude to spelling and grammar annoyed my teachers so I didn't tell them that someday I'd love to be able to make people laugh, or cry, or think new thoughts, from a story I wrote. I worked and travelled and took notes about everything I did. In my second year at University a friend dared me to apply to the Honours degree Creative Writing program. Very few people get in. I submitted a poem, part of a play, and a murder-mystery short story set in the mine I had worked in and got accepted. That it required a fifth year of university was worth it because I got to learn from award-winning author/professors. Though I had lots of material from my unusual jobs and travel adventures, I had to learn consistent writing quality needed of a professional writer. I sold two plays before graduating and in 1985 got my first professional publishing contract with Scholastic Canada. The $500 advance made me feel like a king! Like a hockey player who finally gets paid to play the game, I felt I had achieved something special! But like a hockey player I also need to practice and practice and keep sharp, so I continue to write daily.
* see Professional Reviews page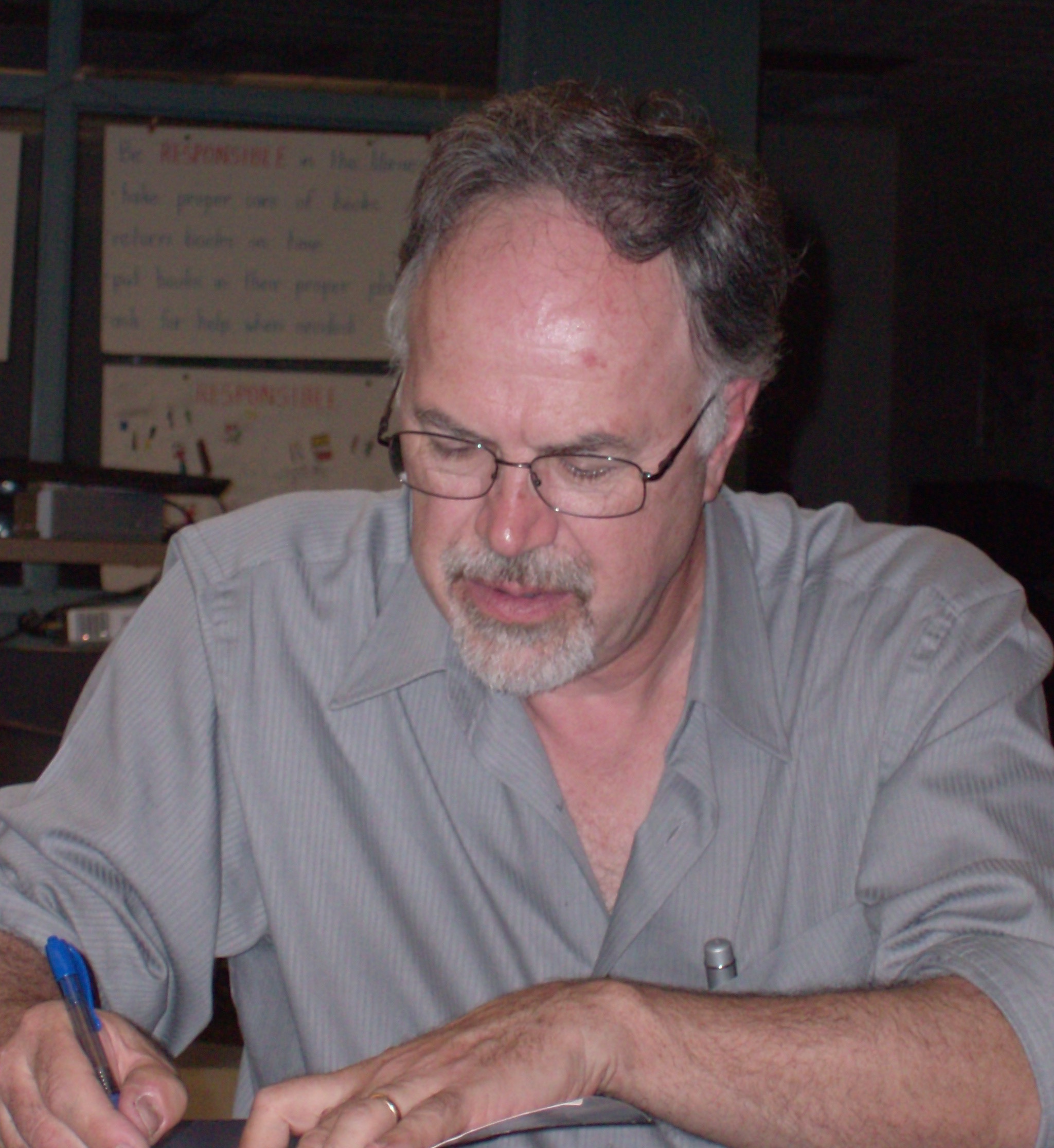 Professional Memberships: René has been a member of the Writer's Union of Canada since 1985, and as an award-winner, he can be booked through the Canada-wide Author's Booking Service. See the Contact René page for bookings at schools or libraries.
Education: René attended elementary and high schools in Ontario and Illinois. He studied Theatre Performance at Ryerson and graduated from York University with an Honours B.A. and a B.Ed. In the Creative Writing program he was taught by Canadian authors: Clark Blaise, Mavor Moore, Matthew Corrigan, and Sheldon Rosen. Tim Wynne-Jones (now famous for his writing) taught him visual art. René taught for twenty-seven years as an Intermediate and Junior grade teacher, Reading Specialist, Spec. Ed. S.E.R.T., Behavioural Teacher, Science and Technology and Senior Drama teacher at a private high school. René was a frequent presenter to teachers on Science and Technology, Fletchville Math programs and Improvisation Drama.
Personal Life: René was born in Zaandam Holland in 1954 and immigrated to Canada in 1957. After high school René worked as an underground mine-worker, construction labourer, truck driver, upholsterer, and taxi-driver. He was also a 'deck cadet', working on the freighter Tadoussac on the Great Lakes just so he could write about it. René and Shirley married in 1985 and have two sons; Adrian and Daniel.
René's award-winning novel Leaving Fletchville is based on a true story of an underage child taking care of siblings in the absence of parents. The hero, who is Black in a predominantly white town, has to lie to authorities and he also endures racism. The book's narrator, a boy with a reputation for laziness and is suspected to be a dummy, becomes a co-conspirator and protector of the young family. Leaving Fletchville is about character, racism, fatherhood, and friendship.
René loves Canadian History. Many hours were spent in libraries, public and government archives, and on the Internet to unearth forgotten stories. Each edition of Canadian Disasters also became a project for his students to help in research and proof-reading for youth interest.
Just the Facts Ma'am... If you are an eye-witness or a relative of someone involved in an event written about in Canadian Disasters, or an event that should be, René would love to hear from you.