René Schmidt
Today I did a school presentation at Madoc Township Public School and it was nice to be back at it. Ms. Angela Burr had a nice class of students. We talked about various storm disasters, ones they had researched and others as well, and talked about what is fake and what is real. Canada has an excellent record of response to natural and man-made disasters and we should be proud of the advances in safety standards for our citizens.
For Parents & Teachers
Do you teach any students that don't have a clue?
About fiction or non-fiction what's opinion, what's true?
Because in our world of media confusion
Many Students can't tell between real and illusion
They research something and come up with actual
opinions or hearsay but nothing proven factual
Did they read it on Facebook or other media social
(because we all can be fooled by arguments emotional)
So I tell what I found researching Canadian Disasters
Including many times when rumors spread faster
than truth… My rule is: don't trust any source that can't be fired
For lying or misleading the public or whoever hired
them… be it books or newspapers, TV or Internet media
A lot of real facts can be found in Google or Wikipedia
But trust only sources with something valuable to lose,
Like a job, or tenure, or a reputation; they should have no excuse
for lying…
If we meet I'll bring funny stories of misinformation
And tragic ones too, that fooled our nation.
Because the falsehoods we sift through are no real mystery
Bogus stories are endemic through Canada's history
So invite me to your school if your principal has a budget
And you and I will teach research and how to judge it.
René Schmidt
René Schmidt is author of Young Adult and teen fiction and non-fiction books. His four book series on Canadian Disasters has sold over 100 000 copies to date. They can be found in libraries and schools across Canada. His fiction novel Leaving Fletchville deals with racism and continues to receive excellent reviews in Canada and the USA. René has also written articles for Canadian Living and other publications.
SPECIAL NOTE For research purposes in this time of the Covid-19 pandemic, readers might want to read René's previous brief but accurate accounts of epidemics through Canada's history, such as the Spanish 'Flu, Polio and S.A.R.S. These stories are free to download while the pandemic lasts. Click on Biological Disasters
René and Shirley live on 40 acres in Wooler, Ontario. Meet his family.
René and Shirley with Adrian and Daniel (with cat).
René won the Forest of Reading Red Maple Honour award for Leaving Fletchville. Here he's with some other prize-winners: Ted Staunton, Sigmund Brouwer, Karen Bass, Alma Fullerton, Rebecca Bender, Kari-Lynn Winters, Robert Priest, Adrienne Kress, Rona Rimler Arato, Heather Camlot, Sylvia McNicoll, Rebecca Anderson Bohner, Irene Luxbacher Nadia Hohn and Marsha Skrypuch.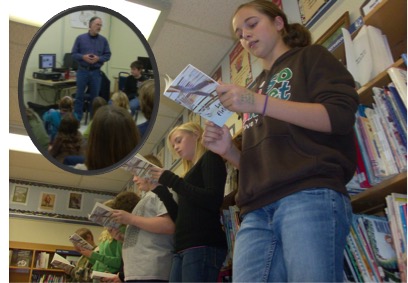 René was given a wonderful book launch at Stockdale P.S. Kathryn Corbett (owner of Lighthouse Books in Brighton) organized a follow-up visit to the Forest of Reading event in Toronto. Leaving Fletchville won second place overall. Former students read their favourite parts from Leaving Fletchville.