René Schmidt
Rene has been writing fiction and non-fiction books for students and teachers and parents since the early 1980's. Since the pandemic he has been collecting new information for another Canadian Disasters book for Scholastic Canada. In addition, Rene has been writing, editing, and revising many fiction stories for young adult and adult readers.
School presentations halted during the pandemic but he is again available. He writes:
"My school presentations at Madoc Township Public School and Frankford Public School were the first since the pandemic and it was nice to be back at it. Students at Madoc Township had researched various disasters in Canada and in both schools we talked about research techniques and discerning what are accurate news sources and what are not. We should be proud of Canada because of our excellent record of response to natural and man-made disasters and the advances in safety standards for our citizens."
René Schmidt's four book series on Canadian Disasters for Scholastic Canada has sold over 100 000 copies to date and are found in libraries and schools across Canada. His fiction novel Leaving Fletchville published by Orca Book Publishers deals with fatherhood, friendship, loyalty and racism. It continues to receive excellent reviews in Canada and the USA. René has also written articles for Canadian Living and other publications.
A few years ago René was awarded the Forest of Reading Red Maple 'Honour Award' for Leaving Fletchville. A member of the exclusive Author's Booking Service he joins other prize-winners: Ted Staunton, Sigmund Brouwer, Karen Bass, Alma Fullerton, Rebecca Bender, Kari-Lynn Winters, Robert Priest, Adrienne Kress, Rona Rimler Arato, Heather Camlot, Sylvia McNicoll, Rebecca Anderson Bohner, Irene Luxbacher Nadia Hohn and Marsha Skrypuch.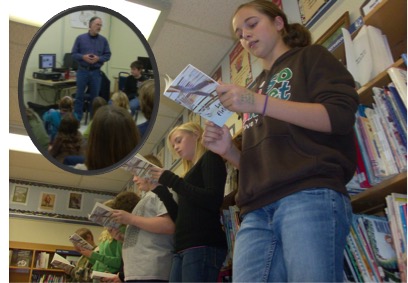 René was given a wonderful book launch at Stockdale P.S. Kathryn Corbett (owner of Lighthouse Books in Brighton) organized a follow-up visit to the Forest of Reading event in Toronto. Former students read their favourite parts from Leaving Fletchville.