"Oh Yeah? Sure!" René has heard this from some people when he describes a few of the things he's done. But he is not making this stuff up.
It starts with restlessness... René's family moved around a lot. He attended five elementary schools, three high schools and was on his own at eighteen. René enjoyed travelling and doing a lot of different jobs. He wasn't particularly good at any of them but he kept notes on the experiences, guessing they would be useful to him later. The photo below is in 1973 when René worked underground in Thompson, Manitoba on a gunite crew. 'Gunite' or 'shot-crete' is cement sprayed on the tunnels and work stations to strengthen and seal them. The work was dirty but paid well. Below René and his friend George enjoy lunch. The walls behind are sealed by the old method with tar and reflective paint.
From 1974 onward his other jobs were doing steel construction in Amsterdam, factory woodwork, upholstering chairs, as a janitor at the Stratford Festival Theatre main stage, truck driving, cleaning swimming pools and taxi driving.
In the photo above René returned underground for a few months... But when they started offering 'free chest X-rays' every half year... he decided to find cleaner work.
René's many voices, accents and imitations helped him get accepted into the Ryerson Theatre Performance program. He did not finish. In 1976 Rene enrolled in York University. York had an excellent Creative Writing program taught by authors like Michael Ondaatje, Clark Blaise, Mavor Moore, Matthew Corrigan and Sheldon Rosen. René was admitted to it based on submitting three short stories. After graduating with an Honours B.A. and B.Ed. René continued working on a 'great Canadian novel' but always wanted different exotic settings for his characters. He spent time on the M.V. Tadoussac so he could describe a large modern freight ship. Those sensory details helped him years later to write about Canada's many ship disasters.
René once took a inter-university course; Human Anatomy for Artists, taught at the U. of Toronto Medical Sciences Anatomy Lab. He and his classmates got to unwrap, examine and draw real human cadavers. René overcame his squeamishness about dead people and will credit this as the single best course he ever took... As a young teacher he shaped fake human bones out of clay. Once fired, they looked convincingly like bone. Years later he and his sons gathered the complete bones of a young deer and wired them together as a teaching aid.
Below: His students named this young male deer "Bambi".
René credits his grade seven art teacher, Harry Hunkin, with his understanding of visual art. Harry's diverse sculptures and canvasses demonstrated that 'art' is not just drawing pretty pictures. Years later René was hired as the Art teacher where his mentor Harry Hunkin was principal. René constructed numerous projects with his students, trying to open up their imaginations in the same way Harry did.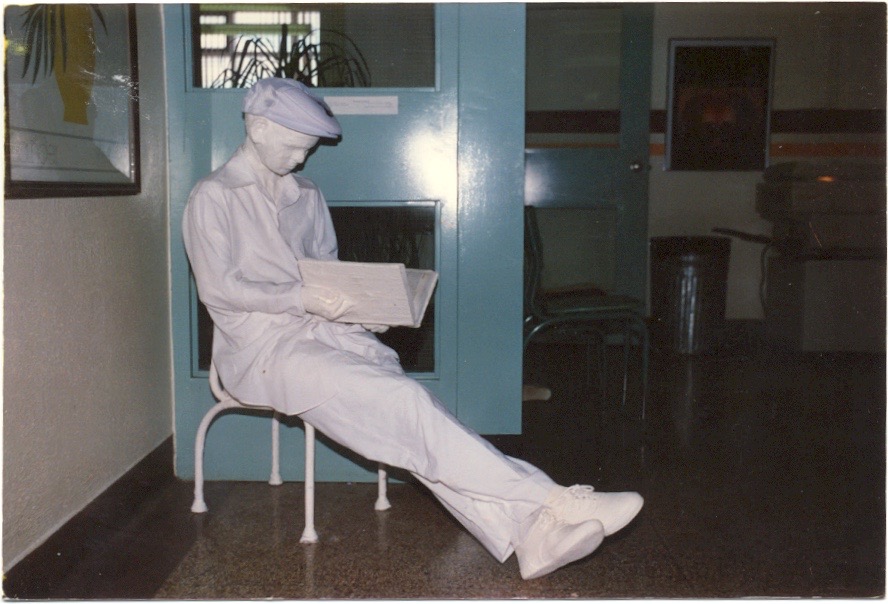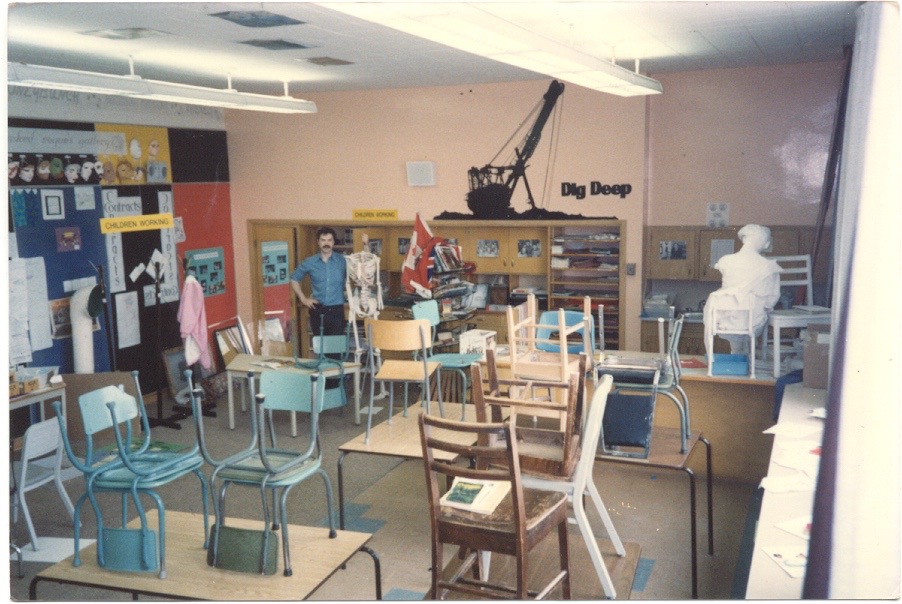 Rene took an excellent university Visual Arts class with then obscure but entertaining instructor (and now a famous author) Tim Wynne-Jones. Besides other projects Rene spent years painting plaid designs on walls and cars using special rollers he created. René decided to paint his 1967 VW Type Three into a Barclay Tartan.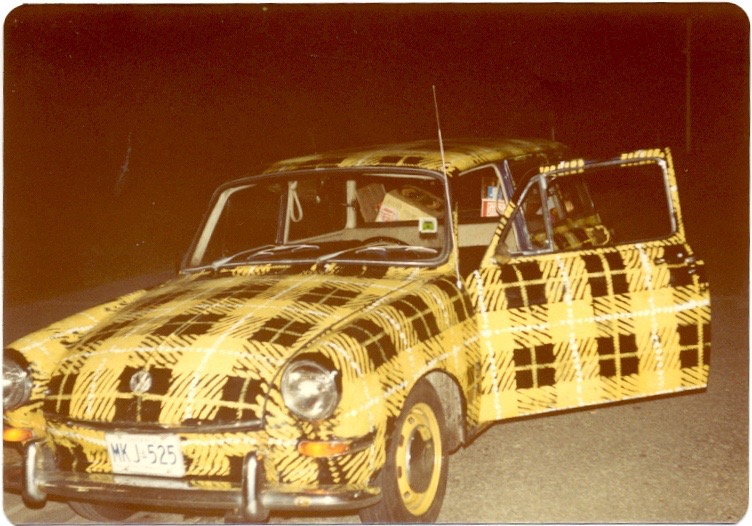 Below is the same car, repainted a more sedate "Black Watch" tartan.
His cars are more normal now.