Taste Life and use it...
René has not had a boring life. As a youth his family moved around a lot. He attended five elementary schools, three high schools and was on his own at eighteen. René continued to enjoy travel and working at different jobs and kept notes of the experiences. Twice he ended up in Thompson, Manitoba working underground... dirty and unhealthy work that paid very well!
Other jobs included steel construction in Holland, factory work, upholstering chairs, janitor at the Stratford Festival Theatre main stage, truck driving, cleaning swimming pools and taxi driving.
In public school René put in extra effort in Art and Drama and Shop Class. After a few years away from school he was accepted to the Ryerson Theatre Performance program but he did not finish. He enrolled in York University and was eventually recommended to the Creative Writing program where he found his niche. The program's professors were award-winning authors Michael Ondaatje, Clark Blaise, Mavor Moore, Matthew Corrigan and Sheldon Rosen. After graduating René hoped to earn a living at writing. He took on a training position on the M.V. Tadoussac, to be able to describe life on a modern lake freighter.
Back in elementary school René credits his grade seven art teacher, Harry Hunkin, as someone who opened his eyes to see visual art is not just drawing pictures. Harry created sculptures and canvasses right in the classroom after school and each day his students saw the progressive sequence of creating something beautiful out of ordinary materials. Years later René temporarily gave up on plans to live off his writing when he saw that Harry was hiring an Art teacher for the school where he was the principal. Rene was privileged to work for his mentor and constructed numerous projects with his students, like the plaster boy below.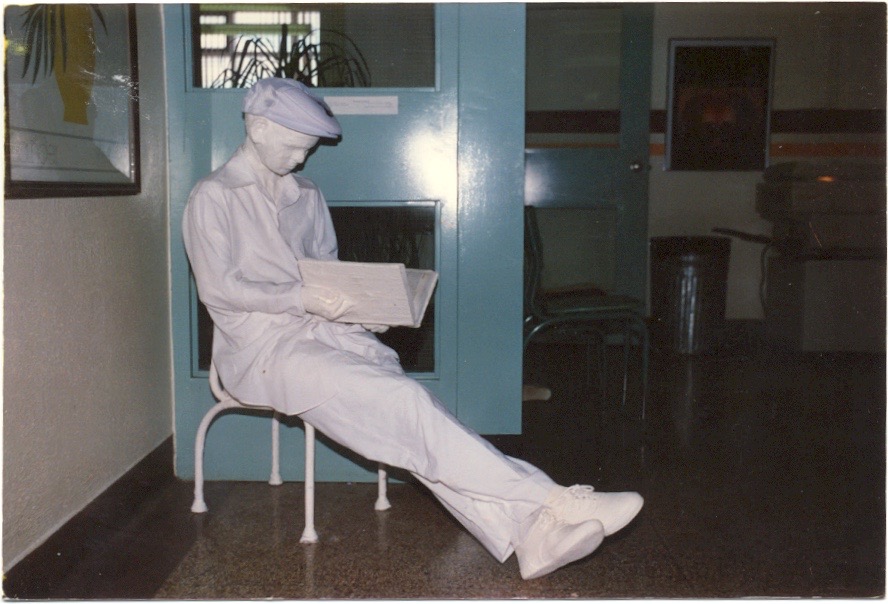 In University René had taken Human Anatomy for Artists, a course at U. of T. where he and his classmates got to examine human cadavers' tissues, muscles, organs and bones in the evening after Medical Class was finished dissecting. As a teacher he began shaping fake bones out of grey potters clay. Once fired, they looked very skeletal. While teaching in Trenton he and his sons gathered the bones of a young deer and wired 'Bambi' together as a teaching aid.
'Bambi' is below.
His low-budget art classroom was... interesting.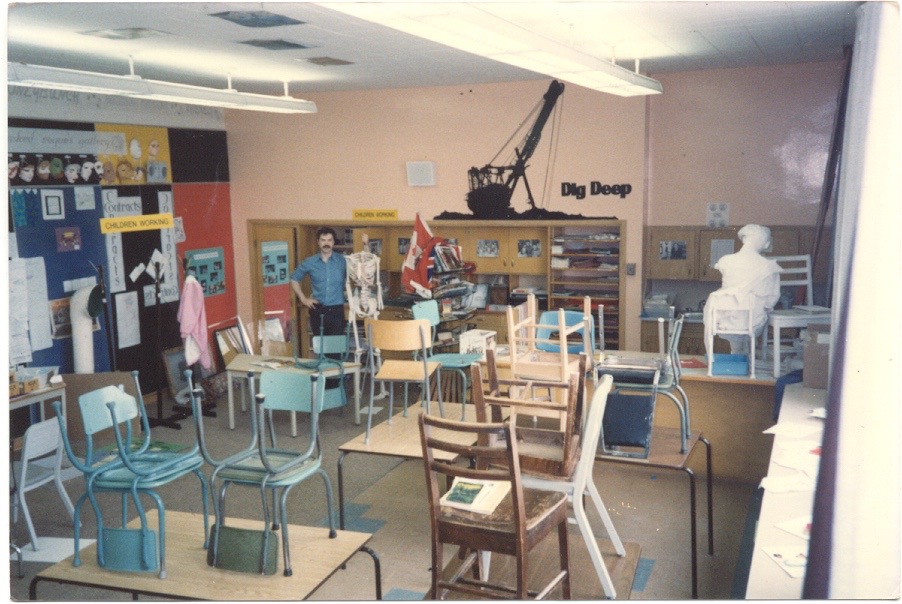 Rene also took an excellent university Visual Arts class from the then-obscure instructor (now famous author) Tim Wynne-Jones. Soon after Rene began painting plaid designs on walls and cars using special rollers he created. René decided to paint his 1967 VW Type Three into a Barclay Tartan.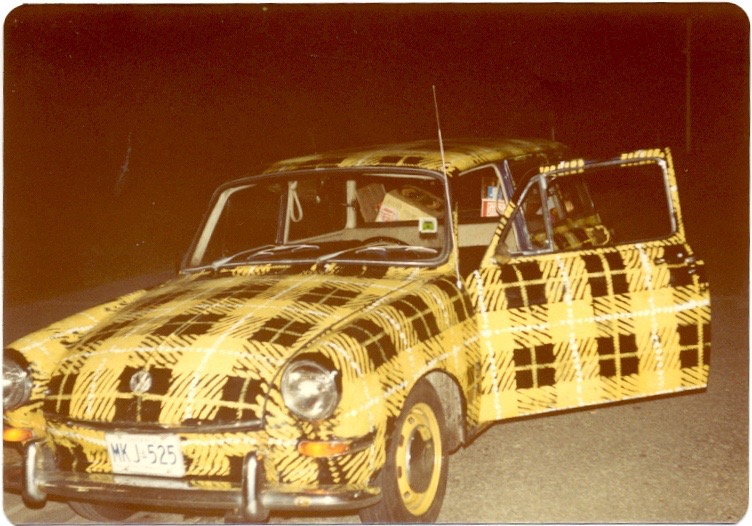 Below is the same car, repainted a more sedate "Black Watch" tartan.
His cars are more normal now.
Teaching ended up being René's main source of income. (Writing doesn't pay very well! even after selling over 100 000 books, the money isn't enough to support a family on). Rene will say teaching taught him the most about his readers and also about life. Finding that math lessons in the textbooks were boring and didn't engage students in real life situations, Rene began adapting lessons from a brilliant idea called Fletchville Math, invented by a first year teacher Aileen Fletcher.
Out of respect for Aileen, René continued to call his new virtual math village "Fletchville" while adding a year's worth of lessons to it, covering many subject areas. Leaving Fletchville, the novel, has a teacher called Fletcher who teaches the main characters life skills, the very skills the hero of the story, Leon, uses in secret to stay away from the authorities.
Aileen and René at his book launch at Lighthouse Books, Brighton.