René says: "Taste life and use it..."
I have not had a boring life. My family moved around a lot. I attended five elementary schools, three high schools and was on my own at eighteen. I continued to travel and work at different jobs and although I wasn't much good at any of them I would keep notes of the details. Maybe the experiences would come in handy some day. In 1973 and again in 1978 I worked in Thompson, Manitoba working underground... the work was dirty but paid very well! When they started offering 'free chest x-rays every half year' I decided it was time to look for something healthier
Some other jobs I did include steel construction in Holland, factory work, upholstering chairs, being a janitor at the Stratford Festival Theatre main stage, truck driving, cleaning swimming pools and taxi driving.
After being out of school a few years I auditioned to the Ryerson Theatre Performance program and was accepted. It was the second best theatre school in Canada, but I began to realize I didn't want to be an actor. The next year I enrolled at York U. and for the first time in my life began to work hard at school and enjoy academic subjects... probably because I was paying for it myself. I enrolled in the B.Ed program and in my B.A. I changed majors twice until eventually I discovered the Creative Writing program and it was like coming home. The teachers were award-winning authors like Michael Ondaatje, Clark Blaise, Mavor Moore, Matthew Corrigan and Sheldon Rosen. After graduating I hoped to earn a living at writing and had my own commercial and advertising writing business. I even signed on to a deck officer training position on the M.V. Tadoussac, because I wanted to be able to describe the sights and smells of life on a lake freighter.
But writing and part-time work wasn't paying rent or my student loans. An old teacher of mine, Harry Hunkin, was now a principal advertising for an Art teacher. Harry Hunkin was someone who opened my eyes to understand visual art is not just about drawing pictures. Harry created sculptures and abstracts and beautiful canvasses right in the classroom. Every day we students saw the some new progression of something he was creating, something beautiful out of ordinary materials. If Harry was hiring an Art teacher I would be privileged to work for my mentor. I began constructing numerous class projects with my students, like the plaster boy below.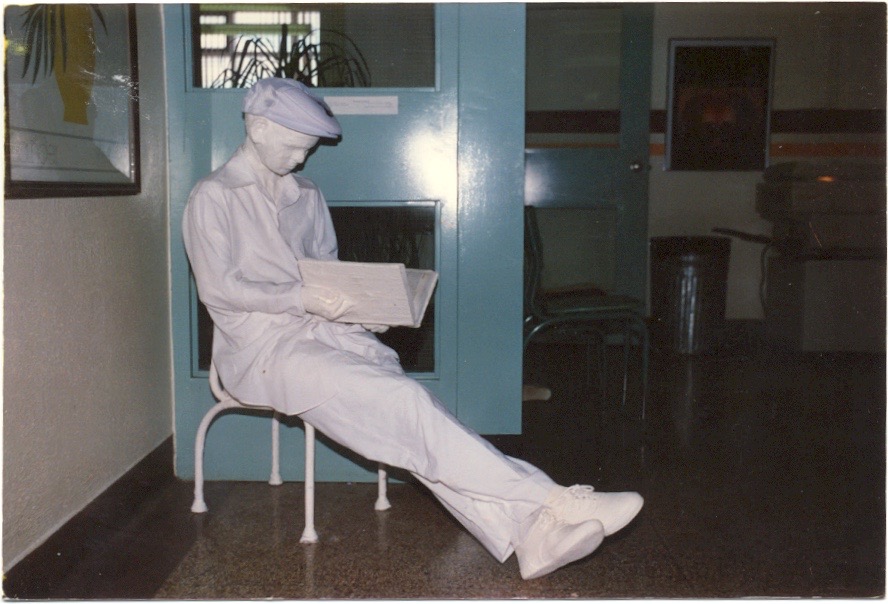 While in University I had also taken Human Anatomy for Artists where we got to examine human cadavers' tissues, muscles, organs and bones. Probably the best single course I even took. As a teacher I began making fake bones out of grey potters clay. Once fired, they looked scarily skeletal! So I made a couple of skeletons for instruction purposes. Later, teaching in Trenton, I was given access to a complete skeleton of a young male deer. My boys and I boiled the bones and wired 'Bambi' together as a teaching aid.
I had a low-budget art classroom in an inner-city school so my furniture and resources were all left-overs but I tried to make it interesting.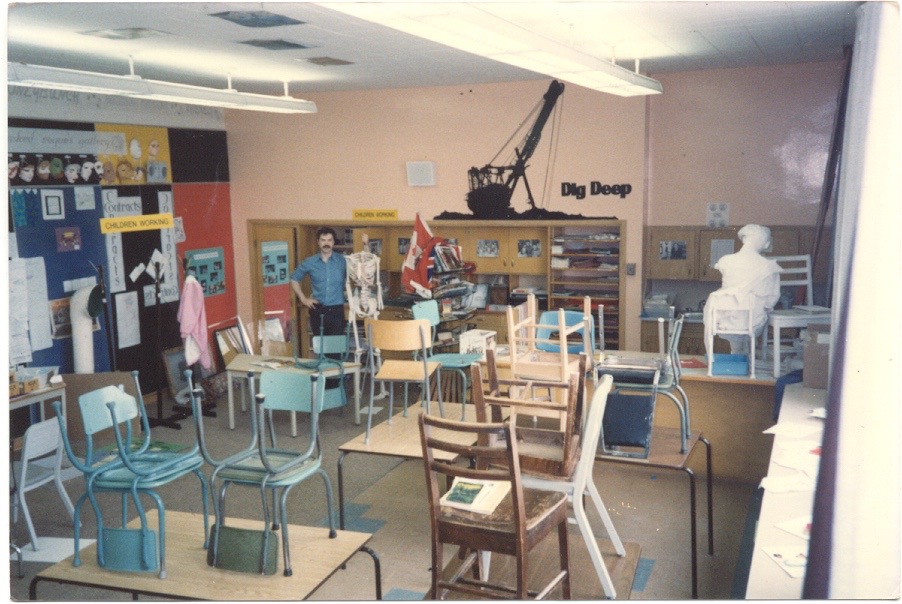 One of my Education courses was taught by the then-unknown and now famous Tim Wynne-Jones. He had a crazy sense of humour. I was inspired by him to try out different ideas and I began painting plaid wall designs all over York U's many tunnels. I also painted my little VW Type 3 station-wagon plaid. It was pug-ugly but in a culture where people worship their cars, I decided it was time to poke fun at classy paint-jobs. The VW first was painted a yellow and black and white Barclay Tartan. Later I repainted to a more sedate and Canadian "Black Watch" tartan. Both are below.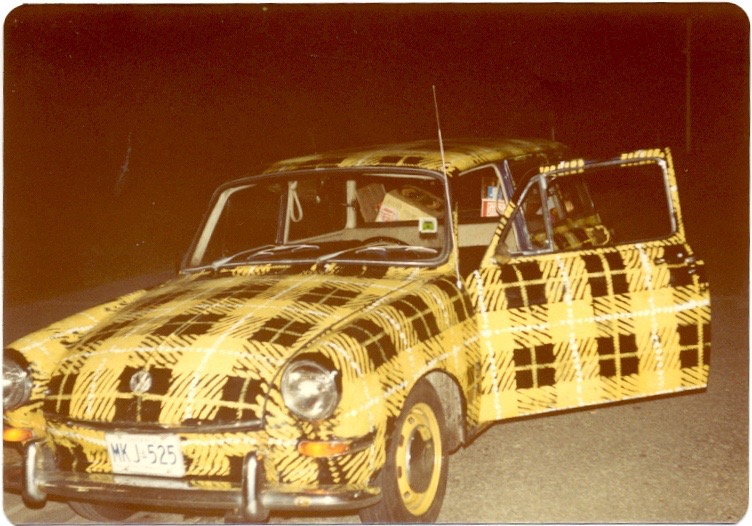 Teaching was something I figured I would do for a few years and then get back to writing full time. But the writing projects never paid enough and the teaching doors kept opening. Then teaching became more than just a job when I discovered how many students really hated reading. So I began to learn how to write all over again, to appeal to a very basic reading level. That was very challenging, but it taught me a lesson about writing I would never have learned otherwise. The first Canadian Disasters edition is written at about a Grade 5 level and sold very well to students and parents... because a LOT of people have difficulty reading!
One year at a favourite teacher's conference I learned about a brilliant math program called Fletchville Math, invented by a first year teacher Aileen Fletcher. It was a simple and very effective way to engage kids in learning math skills through real life situations. My students loved it and I began writing new lessons for it to adapt to all sorts of different subject areas.
Later, when I wrote a fiction novel about kids living on their own without parents I used Fletchville as an illustrative parallel to the plot. My editor suggested we use the title Leaving Fletchville, which was a much more original idea than my own. I was happy to include Aileen Fletcher in the credits and in the title. Below she is with me at the book launch at Lighthouse Books in Brighton.
So? Write what you know.