René Schmidt uses his experience as a classroom teacher to write books that appeal to younger readers. In 1985 René was blessed to be in the right place at the right time to get his first professional publishing contract from Scholastic Canada, who rarely use unknown writers. The contract was for the first edition of Canadian Disasters and it sold very well, being reprinted three times and eventually selling 57 000 copies. More editions followed in 1999, 2006 and 2013. René will write and revise any story many times to make sure they are ready to pitch to a commercial publisher. Even so, like many commercial authors, he has a drawer of rejection letters, but also good reviews for his published work on CBC radio, professional literary and library review publications*. René also writes short stories, poetry, ballads, and plays.
* see Professional Reviews page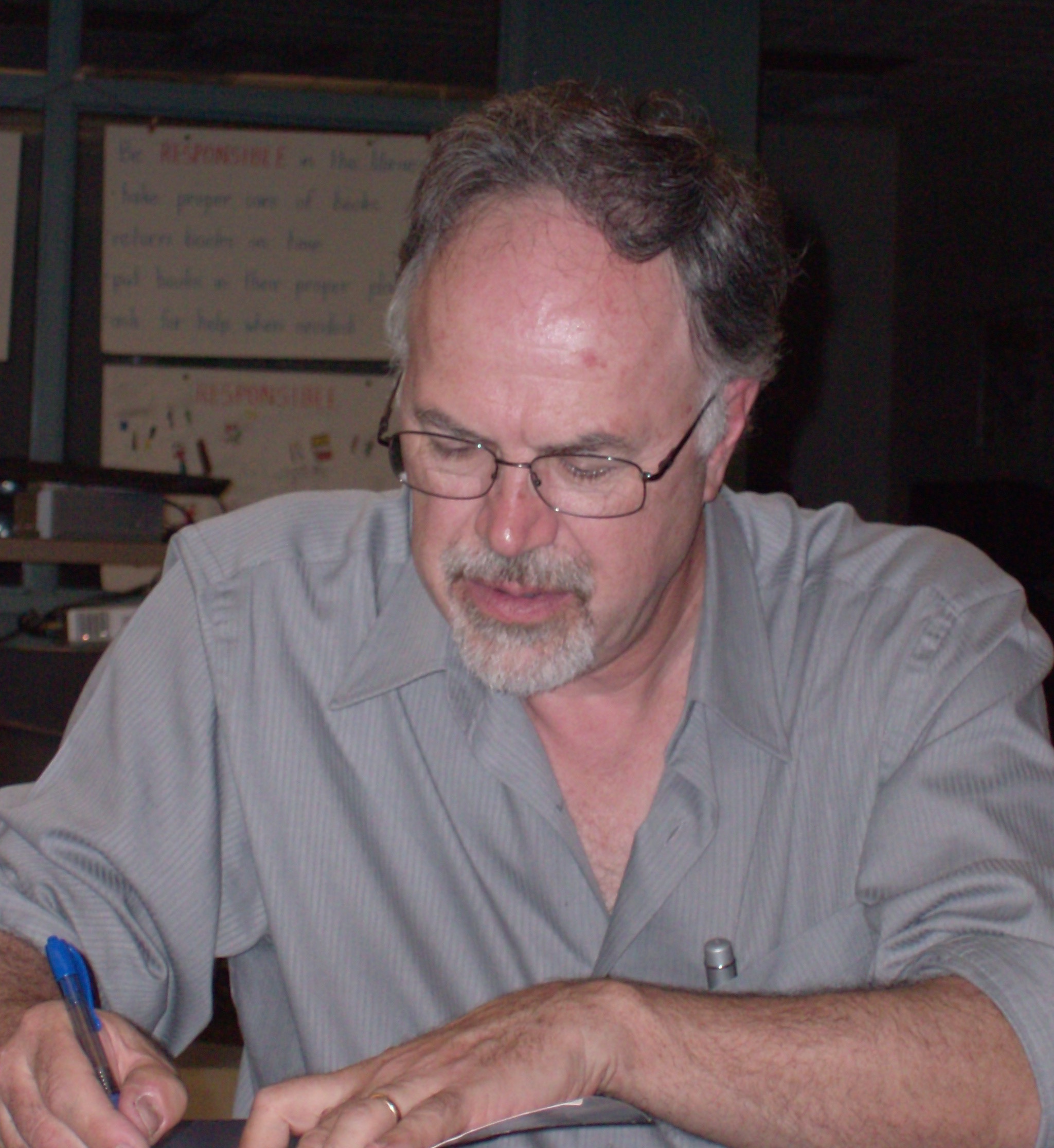 Professional Memberships René is a member of the Writer's Union of Canada, and the prestigious Author's Booking Service for school and library visits. He has a current police check on file with the Toronto District School Board. See the Contact René page for bookings.
Education René attended public and high schools in Ontario and Illinois. He studied Theatre Performance at Ryerson and graduated from York University with an Honours B.A. and a B.Ed. degree. While at York René was accepted to the exclusive Creative Writing program where he was taught by Canadian authors Clark Blaise, Mavor Moore, Matthew Corrigan, Sheldon Rosen, and Tim Wynne-Jones. He sold his first piece of writing in 1980. René taught school for twenty-seven years in Scarborough and Northumberland County, teaching Intermediate grades as well as being a Reading Specialist, Spec. Ed. Behavioural Teacher, S.E.R.T., and Science and Technology (shop) teacher. He was a presenter many times at teacher's conferences on topics of Science and Technology, Fletchville Math programs and Improvisation Drama.
Personal Life René was born in Zaandam Holland in 1954 and immigrated to Canada in 1957. His brothers and teachers remember him as a day-dreamer. Between high school and university René spent four years travelling and working as an underground mine-worker, construction labourer, truck driver, upholsterer, and taxi-driver. René was also a 'deck cadet', working on a freighter on the Great Lakes just to "get the smell of the place" so he could write about it later on. René and Shirley married in 1985 and have two sons; Adrian and Daniel. René retired from teaching in 2009 and has since been director of a youth drop-in centre and briefly a Drama teacher at a local high school. René continues to write.
On Writing René finds it easier to write non-fiction because the story already exists. Fiction is much more of a challenge and he only loves fiction when a story is complete, but he seldom feels his stories are finished. Sending off a fiction manuscript for possible publication is hard because rejection is painful. He says, "It's like sending your kid off to school and the teachers call him ugly. That story is part of you - your creation - and it burns to have it rejected."
René's award-winning novel Leaving Fletchville is based on a true story of an underage young man secretly taking care of his siblings in the absence of parents. He has to lie to authorities to succeed but hates to be dishonest all the time. The narrator of the story is another boy considered the 'school bully' who really isn't a bully at all. Leaving Fletchville is about character, fatherhood, neglect and racism.
René loves Canadian History. He has spent many hours in libraries and public archives, such as Ottawa's National Archives, to unearth forgotten stories. For every edition of Canadian Disasters he involved his students in research and proof-reading and some of them began researching for themselves.
Please Make Contact If you are an eye-witness or a relative of someone involved in an event written about in Canadian Disasters, or just an interested reader, René would love to hear from you.